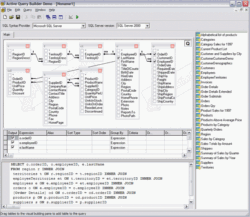 Active Query Builder Standard Ed.
by Active Database Software

See All Products by Active Database Software

Visit Active Database Software's Web Site
Active Query Builder is a .NET-ready ActiveX visual query builder component which gives your end-users the ability to create complex SQL queries containing unions and sub-queries via an intuitive visual interface. It has complete support of Oracle, Microsoft SQL Server, MySQL, PostgreSQL, Informix, InterBase, Firebird, SQLite and ANSI-92 SQL dialects and can be integrated with your application by setting a few properties or adding a few lines of code.
Note: Active-X.COM has not tested this software. It was submitted directly by the software publisher and listed on Active-X.COM for your convenience. It is advised that you only download and install software from sites you trust.
Additional Information
Publisher
Active Database Software
Version
1.6
List Price
$299 (U.S.)
Category
Database
License
Shareware
Submitted
11/27/2005
Usage
ActiveX Control
100% .NET Compatible

Special Requirements