ActiveX Products by Nelix, Inc.
» Found 1 item by Nelix, Inc.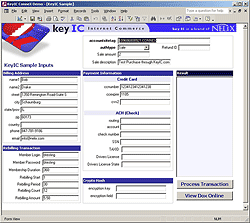 by Nelix, Inc.


KeyIC ConneX is an ActiveX component that can be easily used to integrate payment processing into any application that supports ActiveX. It supports credit card Auth, Sale, Credit, Refund. It also supports recurring transactions and ACH (Checking account) transactions. Comes complete with examples and documentation.