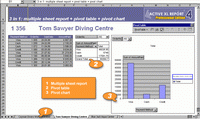 Active XL Report
by Add-in Express Ltd.

See All Products by Add-in Express Ltd.

Visit Add-in Express Ltd.'s Web Site
An ActiveX component to create EXCELlent reports with minimal coding. Save your time. Get impressive results! - Conditional formatting, autofilter - all Excel features are supported on the template level - Pivot tables and Pivot charts - Master-detail and multiple-sheet reports - ADO, DAO, and RDO - Thorough Demo and docs ONLY 3 minutes and EXACTLY ONE LINE of code and multiple sheet report is ready! See http://www.ActiveReport.com
Note: Active-X.COM has not tested this software. It was submitted directly by the software publisher and listed on Active-X.COM for your convenience. It is advised that you only download and install software from sites you trust.
Additional Information
Publisher
Add-in Express Ltd.
Version
4.5
List Price
$89 (U.S.)
Category
Other
License
Shareware
Submitted
5/27/2002
Usage
ActiveX Control
ActiveX DLL

Special Requirements
Win 95/98/ME/NT/2000/XP; Excel 97, 2000, 2002