ActiveX Products by AxisPackage Software
» Found 2 items by AxisPackage Software by AxisPackage Software

3DRay - is very simple ActiveX Component allow you to efficiently create application with 3D graphics. 3DRay supports VB, VC++, Delphi, VB.NET, VBA.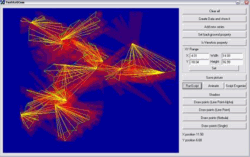 by AxisPackage Software

AxGC ActiveX Control is an interactive 2D graphical tool for developing scientific and mathematical software. It features: dynamic scaling graphics, simple 2D-animation, polynomial fitting, built-in inner fast JScript and VBScript interpreters also saving current graphics as JPEG, TIFF, GIF, PNG and BMP files. AxGC supports VB, VC++, Delphi, VB.NET. Full programming tutorial is included in last version. Examples in VC and JScript.