ActiveX Products by BigSpeedSoft
» Found 3 items by BigSpeedSoft by BigSpeedSoft

BigSpeed File Sharing Library includes two ActiveX controls (client and server) that dramatically simplify and accelerate the development of private file sharing solutions over the Internet. In addition to standard FTP operations, such as upload, download, rename, delete, etc., the library also offers a number of advanced features which give the local application full control over the remote files. by BigSpeedSoft

ActiveX control for secure private networking with 128-bit AES encryption and on-the-fly compression. Implements a flexible message-oriented protocol on top of a single TCP connection. Information is exchanged through typed data packets identified by a command code. Utilizes an elegant event-driven paradigm for easy integration into Windows applications. Can be used both on client and server side, with centralized management of all connections.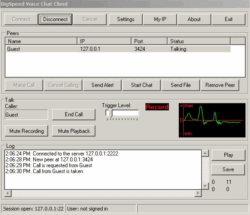 by BigSpeedSoft
BigSpeed Voice SDK is a set of two COM components (Client and Server) that lets you set up a virtual private voice chat network for secure messaging. The security is provided in two different modes: symmetric encryption with shared secret key and asymmetric encryption with 1024-bit public/private keys.