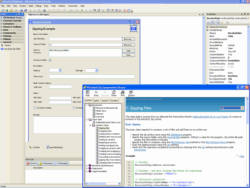 Bricolsoft Zip ActiveX Component
by Bricolsoft LLC

See All Products by Bricolsoft LLC

Visit Bricolsoft LLC's Web Site
Powerful, easy-to-use, high performance ActiveX data compression component that (1) Enables quick and efficient zip and unzip with just a few lines of code(2) Supports multithreading, modern compression algorithms (BZip2, LZMA, PPMd), multipart archives, large files over 4 GB, WinZip AES, self-extract and Unicode filenames/comments (3) Creates files that are compatible with WinZip, PKZIP and 7-Zip (4) Works with C#, VB.NET, VB6, Delphi & more.
Note: Active-X.COM has not tested this software. It was submitted directly by the software publisher and listed on
Active-X.COM for your convenience. It is advised that you only download and install software from sites you trust.
Additional Information
Publisher
Bricolsoft LLC
Version
2012
List Price
$599 (U.S.)
Category
Code Library
License
Shareware
Submitted
3/29/2010
Usage
ActiveX Control
ActiveX DLL
.NET Tested
100% .NET Compatible

Special Requirements
Windows 98 and above with IE4 and above