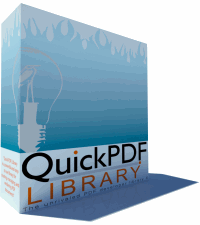 Quick PDF Library
by Debenu Pty. Ltd.

See All Products by Debenu Pty. Ltd.

Visit Debenu Pty. Ltd.'s Web Site
Quick PDF Library is a powerful royalty-free PDF developer SDK - including a 500+ function API for use with ASP, ActiveX, VB, VB Script, C++, C#, Delphi and more... It provides a comprehensive set of functions that allow you to create, split, merge, encrypt, sign, modify, manipulate PDF form fields and JavaScript.
Note: Active-X.COM has not tested this software. It was submitted directly by the software publisher and listed on
Active-X.COM for your convenience. It is advised that you only download and install software from sites you trust.
Additional Information
Publisher
Debenu Pty. Ltd.
Version
7.19
List Price
$249 (U.S.)
Category
Programming Tools
License
Shareware
Submitted
5/21/2010
Usage
ActiveX DLL
VB Add-In
100% .NET Compatible

Special Requirements
Windows® 2000, XP, Vista or Windows 7