ActiveX Products by IDAutomation.com, Inc.
» Found 3 items by IDAutomation.com, Inc.

by IDAutomation.com, Inc.
The Dotnet Barcode Recognition Decoder SDK reads barcodes in C#, VB.NET and Visual Studio. Reads multiple barcode types from a single DLL that is 100% managed code, strong named and digitally signed. Supported barcode types include Code-39, Code-128, GS1-128, Code-93, Code-11, Interleaved 2 of 5, Codabar, MSI, UPC-A and EAN-13. The demo download includes a source code example for Visual Basic .NET.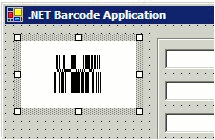 by IDAutomation.com, Inc.
The GS1 DataBar Windows Forms Control by IDAutomation.com generates high-quality, dynamic barcode images in the .NET Framework 1.1 or greater environment. Easily integrates into Visual Studio .NET, C# and Visual Basic. The control may be used as a DLL or loaded on a form. Several methods are available that allow images to be printed directly to the printer, saved to a file or copied to the clipboard.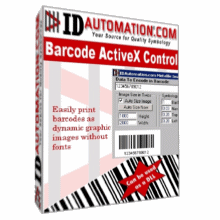 by IDAutomation.com, Inc.

IDAutomation's ActiveX Controls produce precise, high-quality Windows Metafile 2D Barcode graphics used in Microsoft Access, Visual Basic, Visual FoxPro, Internet Explorer and C++. Compiled in C++ ATL, it performs quickly, has a small file size and no runtime dependencies. Includes a signed DLL and CAB file. Royalty free developer and site licenses are available.