ActiveX Products by Renegade Minds
» Found 1 item by Renegade Minds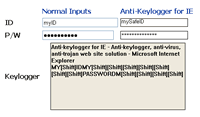 by Renegade Minds

Secure inputs on web pages and stop keyloggers to protect from identity theft.

Quickly create secure inputs with the accompanying code generator.

Protecting customers from credit card theft, stolen IDs and passwords only takes a few seconds.

Custom properties let you specify text vs. password inputs, fonts, sizes, form names, and unique input names for scripting.

Runs completely client-side to protect customers and web visitors.