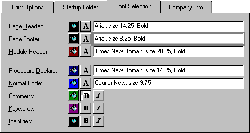 StarPrint/VB Professional Edition
by SevenStar Technologies

See All Products by SevenStar Technologies

Visit SevenStar Technologies' Web Site
All of the features of the Standard Edition source code print program, PLUS: Control font/color, custom cover page, table of contents, and your own company logo,
Note: Active-X.COM has not tested this software. It was submitted directly by the software publisher and listed on Active-X.COM for your convenience. It is advised that you only download and install software from sites you trust.
Additional Information
Publisher
SevenStar Technologies
Version
3.3
List Price
$39 (U.S.)
Category
VB Add-in (VB IDE Plug-In)
License
Shareware
Submitted
5/6/1999
Usage
VB Add-In
Component Suite

Special Requirements
* Download is FREE Standard Edition for all who try the 30-day trial version of Object Briefcase.