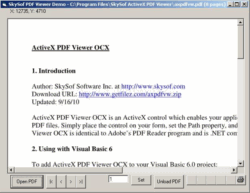 ActiveX PDF Viewer OCX
by SkySof Software

See All Products by SkySof Software

Visit SkySof Software's Web Site
ActiveX PDF Viewer OCX is an ActiveX component which enables your application to display and interact with PDF files. Simply place the control on your form, set the Path property, and you are all set! ActiveX PDF Viewer OCX does not require any PDF reading software such as Adobe Reader and is .NET compatible! Includes many functions for printing, saving copies of PDF files, page navigation, etc.
Note: Active-X.COM has not tested this software. It was submitted directly by the software publisher and listed on
Active-X.COM for your convenience. It is advised that you only download and install software from sites you trust.
Additional Information
Publisher
SkySof Software
Version
3.3
List Price
$299.95 (U.S.)
Category
Programming Tools
License
Trial
Submitted
11/14/2010
Usage
ActiveX Control
ActiveX DLL
100% .NET Compatible

Special Requirements