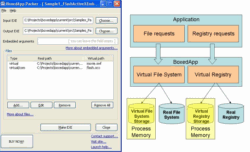 BoxedApp Packer
by Softanics

See All Products by Softanics

Visit Softanics' Web Site
Developer utility for creating full-fledged applications that don't require the installation and can be packed in a single self-sustaining executable. Your applications may utilize third-party libraries and components and get the most of your PC, and yet not affect the computer's physical registry or hard drive, as they would be extracted directly into memory, virtual space and registry. Functionality can be further expanded by utilizing plugins.
Note: Active-X.COM has not tested this software. It was submitted directly by the software publisher and listed on
Active-X.COM for your convenience. It is advised that you only download and install software from sites you trust.
Additional Information
| | |
| --- | --- |
| Publisher | Softanics |
| Version | 2.0 |
| List Price | $299 (U.S.) |
| Category | Programming Tools |
| License | Shareware |
| Submitted | 10/19/2009 |
| Usage | Component Suite |
| Special Requirements | Windows 2000 or higher |