ActiveX Products by Touch22 Software & Consul
» Found 3 items by Touch22 Software & Consul by Touch22 Software & Consul

All COM objects included into the Command22 package are used for running the console application or MS DOS commands from inside your application without bringing up the command prompt (MS DOS) window and providing your application with methods to control the child process input and output.
Command22 COM objects work with Visual Basic, Visual C++ and other (D)COM/ActiveX/Win 32 compatible development environments.
Command22 package includes C++ and JavaScript examples using CMD22, SCMD22, DCMD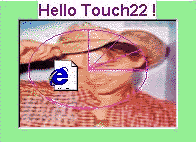 by Touch22 Software & Consul

Image22 ActiveX allows you to create and modify images dynamically on the fly from inside your application. Load image from file, draw text, lines and shapes, combine multiple images into a final image - collage effect, manipulates colors, size and transparency. by Touch22 Software & Consul

SMS22 ActiveX/COM enables your application to send SMS messages from any Internet-connected PC to any cellular phone on more than 300 cellular networks worldwide using public free reliable Internet-to-Cellular SMS gateways.
SMS22 ActiveX/COM works with Visual Basic, Visual C++ and other (D)COM/ActiveX/Win 32 compatible development environments.
SMS22 ActiveX is ideal for any application that requires alerts.