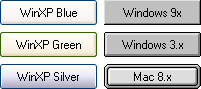 OSButton ActiveX Control
by Variad Corporation

See All Products by Variad Corporation

Visit Variad Corporation's Web Site
The OSButton is our answer to your GUI needs. You can create Windows XP, Windows 95/98, Windows 3.0/3.1/3.11, and Mac 8.x style buttons on any Windows operating system. Add a picture, set the alignment, create different picture effects (such as a drop shadow) and prevent the button from stealing focus (good for toolbars). Combined with our GradientBox ActiveX control, you can create stunning user interfaces that look and feel just like Windows XP!
Note: Active-X.COM has not tested this software. It was submitted directly by the software publisher and listed on
Active-X.COM for your convenience. It is advised that you only download and install software from sites you trust.
Additional Information
Publisher
Variad Corporation
Version
1.0
List Price
$49.95 (U.S.)
Category
Windows User Interface
License
Trial
Submitted
2/7/2003
Usage
ActiveX Control
.NET Tested

Special Requirements
Does NOT require XP. One license per developer.