ActiveX Products by VisPDF Inc.
» Found 1 item by VisPDF Inc.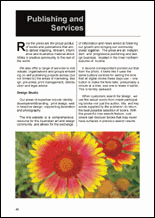 by VisPDF Inc.





VisPDF LibX is an ActiveX control (OCX) that can be used in an application to create your vector based, high resolution PDF documents without needing any external PDF software.

VisPDF LibX works with Visual C++, Visual Basic, VBScript, ASP, Borland Delphi, Borland C++Builder, Microsoft Office and any other ActiveX-compatible development environment. The VisPDFLibX distribution includes the complete help system and many demo programs.