ActiveX Products by WebGecko Software
» Found 2 items by WebGecko Software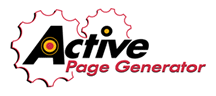 by WebGecko Software

APGen is the leading programming environment for pre-rendering web pages and generating other content. Pre-rendering yields many benefits, including unrivaled web page performance, superior reliability, reduced web hosting costs and ease of maintenance. by WebGecko Software


ASPCache is a high-performance, thread-safe component designed to make it easy to cache data and page fragments in Active Server Pages. Using ASPCache, customers can make their dynamic Web pages faster and reduce the load on their Web servers.