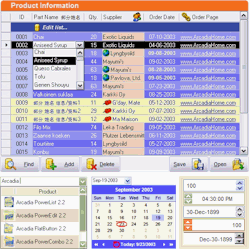 Arcadia FlatButton
by Arcadia Software Dev.

See All Products by Arcadia Software Dev.

Visit Arcadia Software Dev.'s Web Site
Arcadia FlatButton (AFB) comes with built-in XP look and 3 XP color schemes compatible with Windows 98/Me/2000/NT/XP. Additional appearances include flat, 3D, toggle, transparent, light 3D, 3D when mouse over, bevel and rounded corners. AFB enables you to apply pictures and fonts under different conditions, align pictures and captions separately, and embed your own sound file or select from built-in sound effects. AFB is compatible with VB6/VB.NET/VC++/VC++.NET and supports East Asian languages.
Note: Active-X.COM has not tested this software. It was submitted directly by the software publisher and listed on Active-X.COM for your convenience. It is advised that you only download and install software from sites you trust.
Additional Information
Publisher
Arcadia Software Dev.
Version
2.5
List Price
$15.00 (U.S.)
Category
Windows User Interface
License
Retail
Submitted
6/17/2003
Usage
ActiveX Control
100% .NET Compatible

Special Requirements