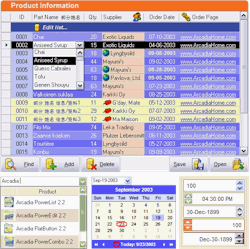 Arcadia FlatTouch - Essential Pack
by Arcadia Software Dev.

See All Products by Arcadia Software Dev.

Visit Arcadia Software Dev.'s Web Site
Create sharp looking applications with Arcadia FlatTouch EP (AFTEP) collection of 4 feature-rich ActiveX GUI controls. AFTEP includes Arcadia FlatButton, Arcadia PowerList, Arcadia PowerCombo, and Arcadia PowerEdit. All AFTEP controls support East Asian languages and come with built-in XP/2D/3D look that can be applied under Windows 98/NT/2000/XP. PowerList and PowerCombo come with OLE DB connectivity to SQL Server, Oracle, and Access databases as well as many 3rd party data source controls.
Note: Active-X.COM has not tested this software. It was submitted directly by the software publisher and listed on Active-X.COM for your convenience. It is advised that you only download and install software from sites you trust.
Additional Information
Publisher
Arcadia Software Dev.
Version
2.5
List Price
$239.00 (U.S.)
Category
Windows User Interface
License
Retail
Submitted
6/17/2003
Usage
ActiveX Control
Component Suite
100% .NET Compatible

Special Requirements