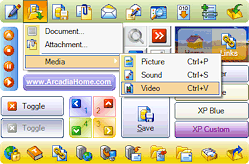 Arcadia PowerButton ActiveX/.NET
by Arcadia Software Dev.

See All Products by Arcadia Software Dev.

Visit Arcadia Software Dev.'s Web Site
Create dazzling looking applications with the new Arcadia PowerButton. In addition to the basic built-in XP, Flat, 3D, Bevel, Toggling, CoolButton, 3D/XP When Mouse Over appearances and functionality, Arcadia PowerButton comes now with Office 2003 look, advanced gradient color generator and picture and translucency effects, built-in multi-level drop menu, separate picture and caption vertical and horizontal alignments and margin settings for pinpoint positioning accuracy, and much much more...
Note: Active-X.COM has not tested this software. It was submitted directly by the software publisher and listed on Active-X.COM for your convenience. It is advised that you only download and install software from sites you trust.
Additional Information
Publisher
Arcadia Software Dev.
Version
3.3 / 1.7
List Price
$49.00 (U.S.)
Category
Windows User Interface
License
Retail
Submitted
11/20/2003
Usage
ActiveX Control
100% .NET Compatible

Special Requirements
Compatible only with VB 6.0/.NET, C# .NET, VC++ 6.0/.NET development tools under Windows 98/ME/NT/2000/XP